Paolelli.com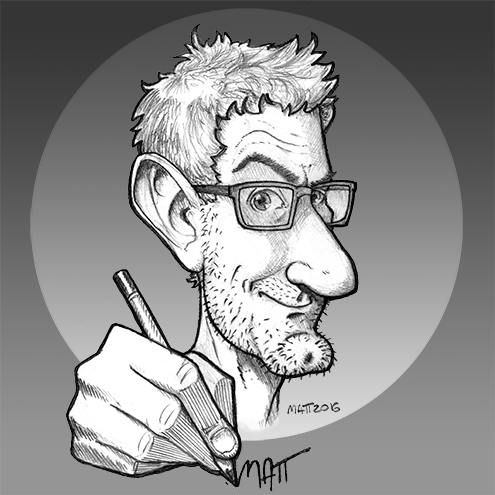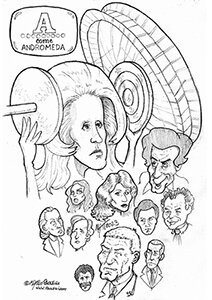 On the RaiPlay streaming platform (from Rai, the Italian national public broadcast), numerous programmes are available, including some TV series. Every now and then I take advantage of it, and so I watched the first series, restored, of Space: 1999, and then an old sci-fi drama from 1972, "A come Andromeda". I was too young at the time, but I must have seen it a few years later because I have clear memories of certain scenes, one above all (SPOILER!): the one in which Andromeda burns his hands by touching the plates. Also, how can I not remember the platinum hairstyle of the protagonist?

The caricature I made (or rather, the set of caricatures) is a bit different from the others, it was a bit of a study of faces done to train the eye, I didn't have a clear composition and I drew the characters a bit as they came, so much so that for the final version I changed their layout.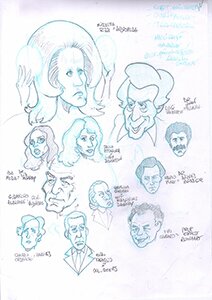 A for Andromeda is the Italian remake of a similar 1961 British show, A for Andromeda, whose tapes were overwritten and of which only the last episode and a few fragments of the others remain today. The British show starred Julie Christie and was written by Fred Holyle, a scientist who among other things invented the name by which we now call the sudden expansion of the Universe 14 billion years ago, the Big Bang.

The plot, very briefly, is set in England in an unspecified future (indeed, the titles say '...next year'). On the eve of the inauguration of a new radiotelescope, a signal is received from the Andromeda galaxy which, when deciphered, leads to the construction of a supercomputer. The machine will then be used to create a living organism similar to human beings, Andromeda, whose purpose is unclear.

Speaking of the theme song, it is very evocative and worth recovering (https://www.youtube.com/watch?v=jB1p1goR06Y).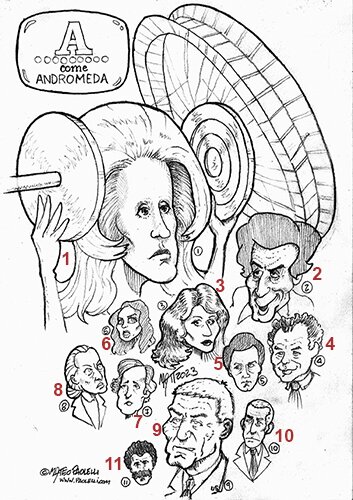 A come Andromeda was played, as was common then, especially by well-known film and theatre actors. While searching for reference images, I also discovered some details of their lives, which for some ended tragically.

Characters and performers:
1) Andromeda/Christine - Nicoletta Rizzi (1940-2010); initially the role was given to Patty Pravo (a very famous Italian singer), who also filmed part of the scenes before leaving the set;

2) Dr. John Fleming - Luigi Vannucchi (1930-1978); one of the best-known faces of the period, he died by suicide;
3) Judy Adamson - Paola Pitagora (1941); she achieved notoriety in 1967 playing Lucia Mondella in 'I Promessi Sposi' (adaptation of The Betrothed, one of the pillars of Italian literature), another tv show. Still active today;
4) Prof. Ernest Reinhart - Tino Carraro (1910 - 1995); mainly theatre actor;
5) Eng. Dennis Bridger - Mario Piave (1940 - 1979); actor in many dramas, he was killed by five gunshots;
6) Dr. Liz Murray - Ida Meda; very little can be found on the Internet about this actress, who was active until the late 1980s;
7) Harries - Claudio Cassinelli (1938 - 1985); the script is set in England, Cassinelli was from Bologna: the English Harries, his character, has a distinct Bolognese accent. He died in a helicopter accident while shooting a film;
8) Dr. Madeleine Dawnay - Gabriella Giacobbe (1923 - 1979); actress mainly in theatre;
9) Gen. Vandemberg - Giampiero Albertini (1927 -1991); another actor well known to television audiences, he appeared in numerous TV series, other RAI productions, commercials and numerous films. He was also a voice actor: his is the Italian voice of Columbo, by Peter Falk;
10) Col. Geers - Enzo Tarascio (1919 - 2006); actor in theatre, film, radio and television; he was also a voice actor;
11) Maj. Quadring - Guido De Salvi (.... - 2002); in the show he has a minor role but is unmistakable because of his moustache, which also makes him appear a little out of context; actor and voice actor.
© Copyright Matteo Paolelli